A landing page is a unique web page that be found in response to clicking on a search result or an online advertisement. Various companies don't know the effect of specific landing pages. Customised pages are vital to productive lead conversion. Let us now probe more into the crucial role of these pages play in digital marketing campaigns.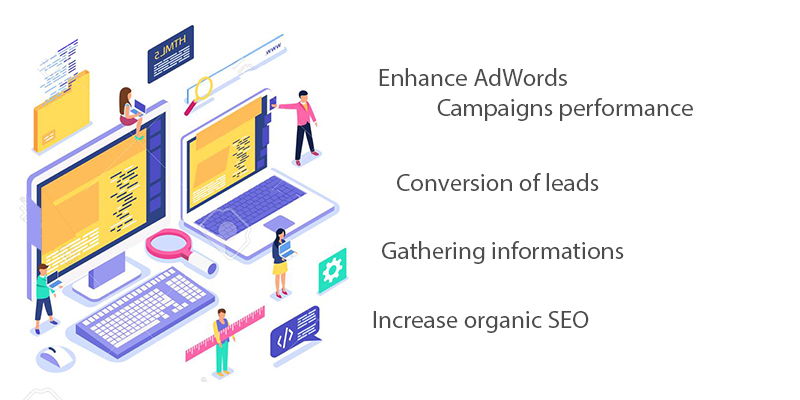 Enhance AdWords Campaigns performance
Landing page quality is very essential for your AdWords campaigns performance. It is very crucial to follow Google's best practices to create pages that connect directly with your ad groups and provide a unified experience for visitors, from keyword to conversion. Ensuring your page is significant, transparent and easy to navigate will help an advertiser turn visitors into customers and improve ROI.
Relevance plays a crucial role in the success of a landing page. Unlike regular browsers, visitors arrive on a landing page for a very specific reason. Visitors to these pages arrive to the page with a specific intention. The first thing you have to do is instantly show relevance and help visitors find the specific information they are searching for. You need to show the visitors they have selected the right place where they can find the brand, product or deal they are searching for. Greater landing page relevance will lead to increased quality score, increased lead generation and will improve the overall performance of your AdWords' campaign.
Conversion of leads
Landing pages play a fundamental role in lead conversion. landing pages are an effective tool for your conversion of leads. Product specific pages are focused on a specific intention that matches the intent of the ad that the visitor clicked on to reach the page. The page should have very specific information pertaining to the advert which was clicked on. Purposes built landing pages have high conversion rates. There is an increase likelihood of conversion when users land on a purpose built page, because the user is presented with the exact information they were searching for immediately.
Gathering informations
Landing pages can be used as an effective and quick tool to attain costumer's information. This information can be used for a number of beneficial reasons such as building customer profiles, research projects and lead generation. Log in information enables companies to analyse deep data and gain insight into their consumer's demographics and social preferences.
Increase organic SEO with effective Landing Pages
Landing pages can increase your Search engine ranking. These pages are a good tool for analysing organic search traffic, because each landing page can be created around a focus keyword. As a result, incoming keyword searches generally relate to the focus of the page. You can see which organic searches on Google relate to which landing pages on your site. By optimising each landing page around a specific keyword you can increase the ranking for that keyword organically over time.
These are just few purposes that landing pages offers. they can act very crucial role in your campaigns. Get in touch with the leading digital marketing company in Bangalore, Zinetgo and see how we can help you.