Search Engine Optimisation or SEO is the tactic of improving your web page rankings in a search engine's result page, most specifically the unpaid results or organic results. But most of us are still unaware of what practices are companies using to carry out their essential SEO objectives?.
To dig out that, A Boston Based Research company for marketing has done a survey about Search Engine Optimization, almost near to 300 marketing professionals participated. Our Blog content is written regarding the statistical findings of the survey. Here are few exceptional data from the survey that will help you in 2018.
1. Most Effective SEO Tactics
There are several kinds of techniques which are used to achieve crucial SEO objectives effectively. The survey findings express that, For a 57 percent, that is the majority of marketing professionals, on-page content development is effective. Keyword research, link building, and website structure are also effective tactics for 50 percent, 46 percent and 43 percent of marketing leadership respectively.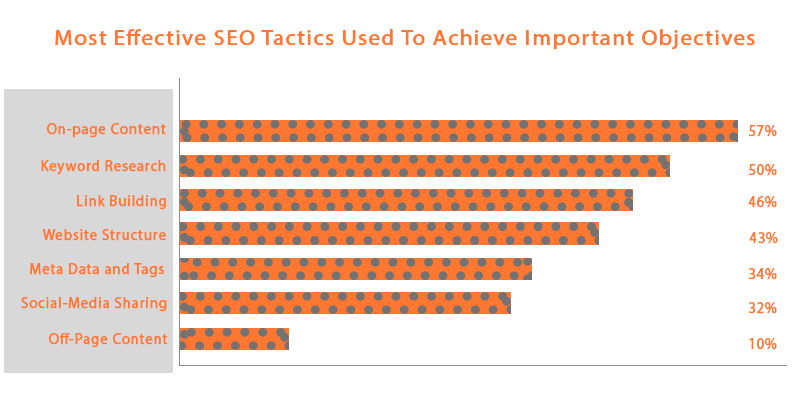 Local optimization and hyper-local intent targeting is nothing new for an SEO tactic. Yet, There has been impressive growth in search intent targeting moment definitely for search regarding demand on certain terms like "near me", "Nearby", "Close by", and other variations.
The main factors leading to this higher local/hyper-local search intent targeting opportunity includes:
Increasing voice command/search demand.

Utilizing Personal assistance and handy command speakers.
Increased value, Trust, and authority on location within the search results.
Following Mobile-first search.
Increased touch points in the typical user journey and moving away from single interaction attribution.
Added contextualization of search queries and artificial intelligence (AI) within search engine marketing and the Google algorithm.


2. Most Difficult SEO Tactics
As per the survey results states, almost 52 percent, that is the clear majority of marketing professionals conveys that the most difficult tactic to implement in SEO is considered as Link building. The tactical degree of difficulty is a base factor in determining the implementation resources to use.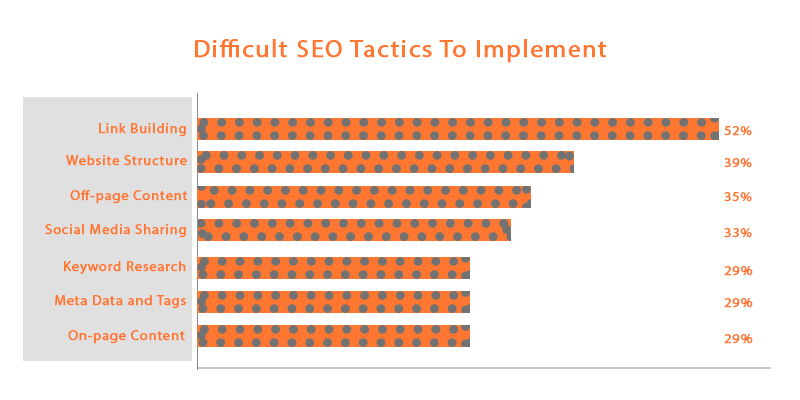 3. SEO Implementation Assets used
Clearly, 85 percent of marketing professionals say that they have outsourced all or part of their SEO Implementation tactics to experts or other digital marketing companies. That is because, the implementation of some SEO tactics, such as link building, may require skills and capabilities not always available in-house. The maintaining and running of a digital marketing team by in-house is also expensive, that too a reason for adopting an outsource.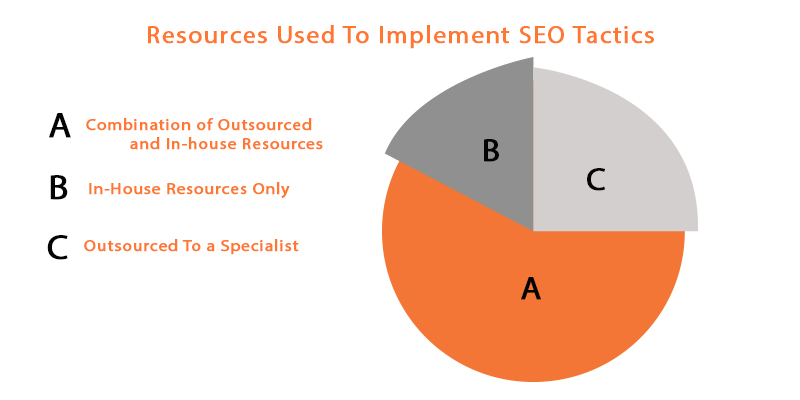 4. Budget For SEO: 2018
This is one of the most crucial findings of the effectiveness of SEO, that the trend is to increase the SEO budget in 2018 for a total of 91 percent of marketing professionals, with 38 percent chronicle the increase as "momentous." this is the very promising outlook for this successful marketing initiative. The marketing technologies are even shifting its gear to top to deliver the exceptional place in SEOs. The Data-driven marketing and marketing automation also enables a perfect regulation in the growth of SEO oriented optimization of contents.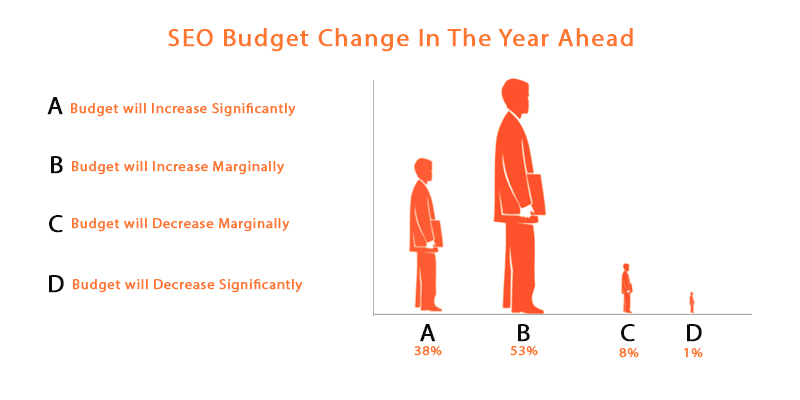 The Importance of SEO rankings is crucial for your business if you are oriented on digital platforms, Through this blog, hope you get to know about the latest SEO techniques in 2018. Getting on the top of search engines are really not a very easy thing to do. Perfectly skilled and professional strategies are needed for implementing advanced SEO tactics. Zinetgo, the Best digital marketing company in Bangalore has a group of experts and analysts along with researchers and definitely the best SEO company. If you want to get positive results and awesome profits from online, get tie up with Zinetgo, and grow online.